Welcome back everyone, hope you all had a wonderful and safe holiday!! Speaking of safe, we are so pleased to offer the SHINE workshop for parents & guardians on keeping our children safe in real life and online!
Join us for this workshop given by the
"Missing Children's Network" on Jan 29th 2019.
Details below in the poster – please register by copying this link: https://goo.gl/forms/J1VyBXhtXqXh0JOB2
or email if you have any questions/trouble using the registration form:
Hope to see you there!!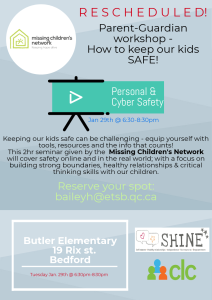 ---
Please follow us on our Facebook pages! "MV Athletics" is dedicated to our interscholastic athletics, our intramural lunch program and our phys-ed initiatives; while "Massey-Vanier Extra Extra Read All About It" disseminates school information and highlights our students' successes.